Mini detector microphone and camera wifi spy
Camera detector wireless spy micro spy gsm GPS Tracker, detection by radio frequency of 1 MHz to 6.5Ghz, wifi, detection Led antenna, 6 hours of battery life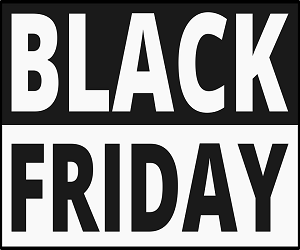 Average votes for this product
Based on
9
customers advices.

« Previous
Spy camera and microphone detector performance
$109.90

Next »
Wireless camera and microphone detector high sensitivity
$169.90
Description
It is difficult today to protect themselves against espionage. It is now a wide range of devices on the market - including the miniature camera, the bug, or even the tag GPS. These devices come in unexpected forms, for example, they can take on the appearance of an ordinary alarm clock or a pen. Moreover, the spying devices have often a compact small size. We can so easily hide them. For all these reasons, the use of this material detector spy is recommended.
This camera detector is a device requiring no connection to operate. It take a rechargeable battery lithium 400 my. The user benefits from a range of 6 to 15 hours on a full charge.
Furthermore, the product takes the form of a plastic box that can easily hold with one hand. It also offers a simplified grip. Note that the detection device is not waterproof. As a result, strong variations in temperature can affect proper operation.
The best hidden cameras may have a Wi - Fi antenna. The component allows to take advantage of remote viewing. With this feature, the user is able to watch the filmed images live on their smartphone or computer. Please note that this option requires an Internet connection. This material spy detector is also an antenna Wi - Fi to spot a camera hidden with distance vision.
Active electronic devices produce waves. You should know that this detection device has a radio frequency antenna. The latter allows to capture these waves. The product is set for FM, VHF and UHF channels. It analyzes the frequency band ranging from 1 MHz to 6.5 GHz. GPS tracking and listening devices generally use GSM technology. The product is also designed to detect these models of espionage equipment.
Material K18 spy detector uses two reporting systems to indicate the presence of suspicious devices. Reporting can be done through an led. The latter therefore lights in case of detection. There is also the sound report. The K18 beeps when one detects a listening device, a GPS Tracker or a hidden camera.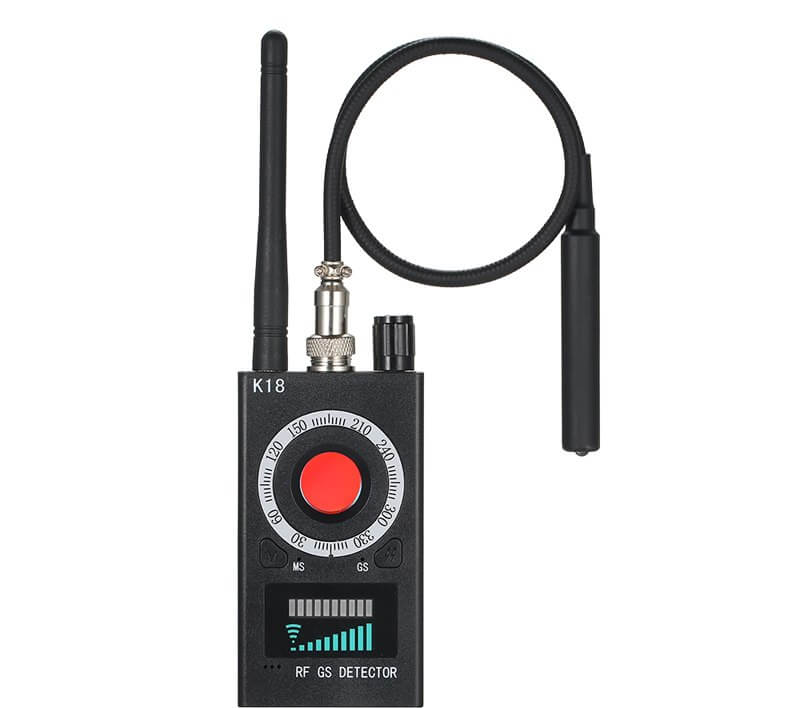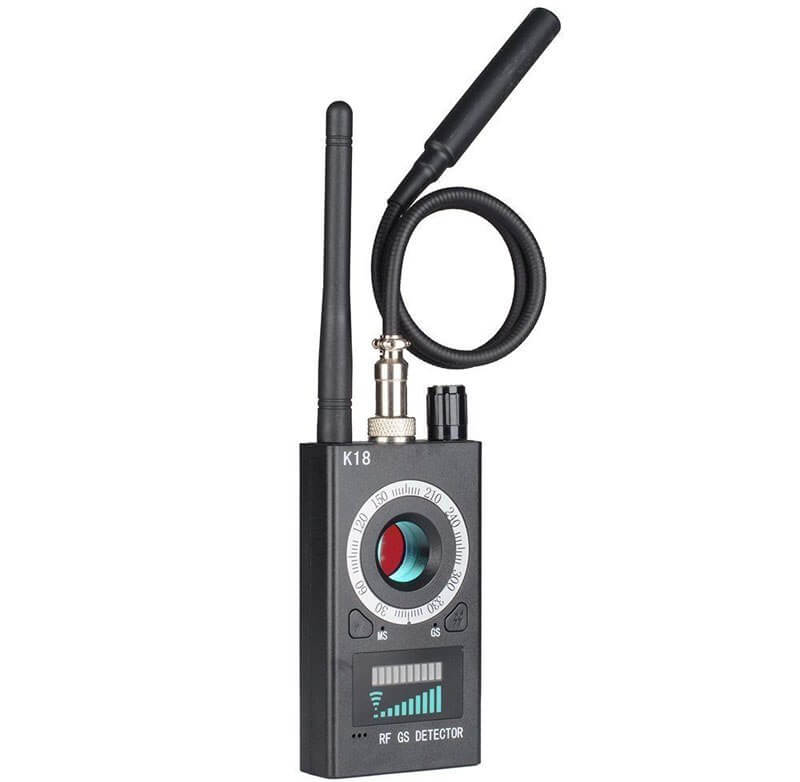 Data sheet
Weight

360 grams

Size

11.7 * 5.6 * 2 cm

Autonomy

Between 6 to 15 hours depending on use

Possible operating temperature

-20 ° C to + 55 ° C

Battery capacity

400 mAh

Frequency detection

1 MHz to 6.5 GHz

Indication mode

Sound and light signal

Detection distance

35 meters