Wireless camera and microphone detector high sensitivity
Detector wavelength very accurate, compact, easy to take in hand, walking time between 15 and 25 hours continuous detection of frequencies between 1 mhz - 8000 mhz, 10 m sensing distance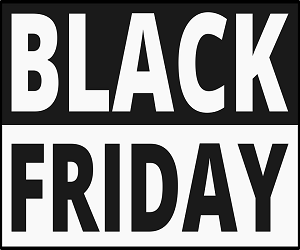 Average votes for this product
Based on
7
customers advices.

« Previous
Mini detector microphone and camera wifi spy
$104.90

Next »
Camera signal detector and automatic spy microphone
$249.90
Description
Whether in the professional or personal, setting a spying device installation has become a fairly common practice. However, the presence of this type of device may cause a violation of our privacy. It is in this context that the spying devices detector has been designed. Here, we present to you a powerful spying devices detector model. Its design is worked well: black color, it looks like a walkie talkie. Light levels are in the Center with the button ON / OFF. Detector camera lens is located upstairs with a bright red. In addition to its weight of only 90 grams, the shape of the case has been well thought to facilitate its handling. Compact, it fits easily in the Palm of your hand. 
Regarding its functionality, this micro spy detector features very interesting options to facilitate the location of a spying device. It has a large sensor camera lens, 9 levels LED light, sound detector, alarm sound, insect detector, etc. Its operation is simple: the LED light is an indicator of signal strength. When the target detects the presence of a hidden camera, it lights up. Close an detected spying device, the device emits a signal sound.  More the spy equipment, the level of the LED light turns red. 
As the sensitivity and performance of this detector, it can locate for many spy equipment such as hidden cameras, spy micro, mobile phone with a frequency up to 1 MHz - 8000 MHz band. Wired or wireless, it can locate all types of devices with ease as long as this is included in the specified frequency range. The distance of detection the unit can go up to 10 meters. Namely that the sensitivity of the detector is also adjustable. The power of the battery lithium polymer 3.7 V integrated ensures a good battery life of the device for about 15 hours. You can use this sensor in the office, at home, in the meeting room, in the locker room, in the car, etc.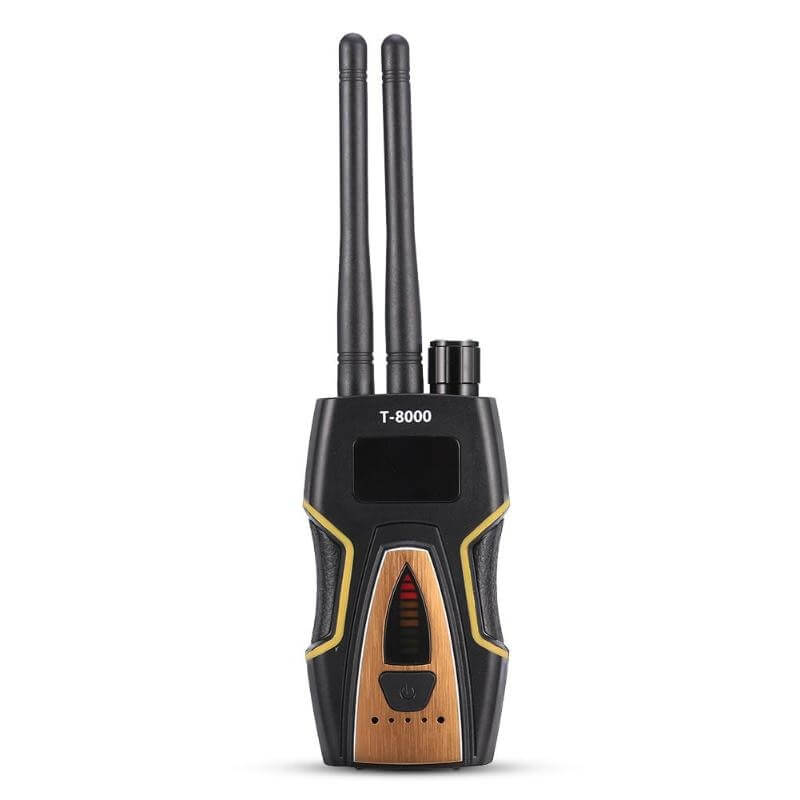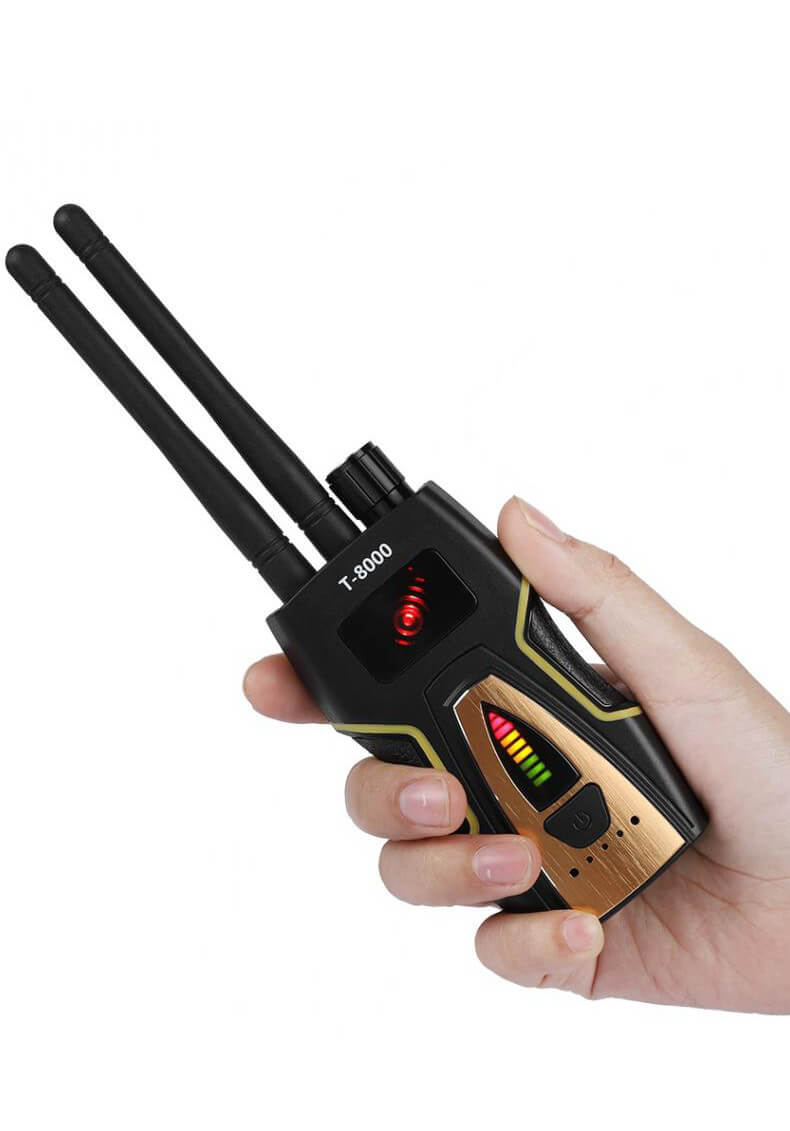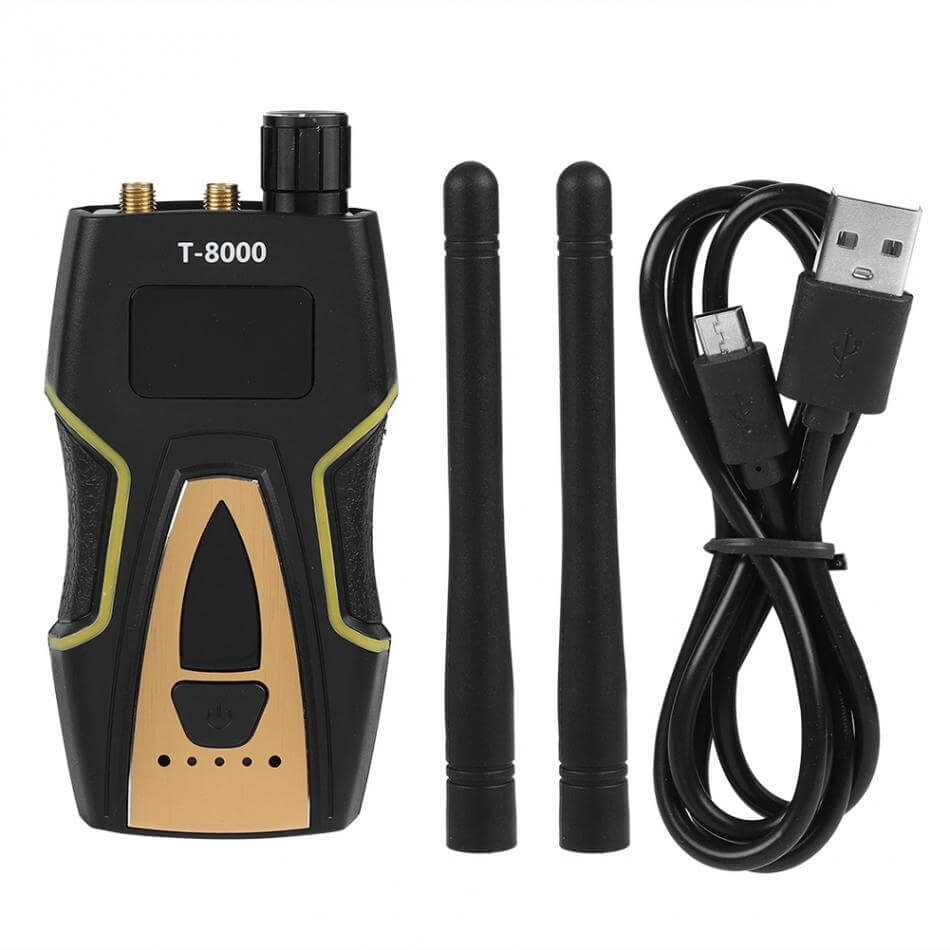 Data sheet
Weight

214 grams

Size

12 * 6 * 2.5 cm

drums

Lithium polymer

Frequency detection

1 mhz - 8000 mhz

Detection distance

10 meters

Walking time

15-25 hours depending on use