Alarm clock with mini WiFi infrared spy camera
Mini alarm clock with very discreet full HD 1080P spy camera, 12 million pixels, long distance infrared vision, remote vision thanks to its WiFi connection, motion detection


Average votes for this product
Based on
8
customers advices.
« Previous
Full HD WiFi camera alarm clock with intercom
$129.00
Next »
Alarm spy 2 million pixels
$59.90
Description
this alarm clock spy camera is a very discreet video surveillance device. As its name implies, the device comes in the form of an ordinary electronic alarm clock. This miniature camera to film without arousing suspicion. Despite this configuration, this spy hardware is no more cumbersome than a simple clock alarm. Indeed, the device is not wider than the hand of an adult person.
This camera alarm clock is equipped with a video sensor 12 million pixels. Producing content in very high definition or 1080p is therefore possible. On the other hand, the device is able to give usable images, even in low light conditions. This is because of an infrared vision.
Many features make it easier to take this spying material. there motion detection is one of them. When sensors detect an activity, they automatically trigger the camera. However, motion detection has a limited range. The latter is about ten meters in General. Other interesting feature, remote vision. It is important to know that this Spy alarm clock has a WiFi antenna. The component allows the device to transmit images during shooting. The user can then Watch live – on his computer or Smartphone – what the camera is filming. Note that this option requires an Internet connection. Remote vision can also be done at several different terminals.
On the other hand, this camera alarm clock does not have an internal memory. Data storage must be done on a micro SD card. The storage volume will then depend on the capacity of the card inserted into the device. Also, this Spy hardware uses a standard extension for its files. This allows you to play videos with default software or applications.
The design is also one of the strengths of this Spy alarm clock. In appearance, there is no suggestion that the device is actually concealing a miniature camera. The lens of the video sensor, the location of the memory card and the micro-USB port are perfectly camoufled. In addition, the device operates its wiring. It uses a rechargeable battery as a power supply. This offers a autonomy of about 5 hours after each recharge.
This camera clock alarm is ideal to enhance the security of the housing. This allows to have an eye on the House during absences. It can also be used to monitor children or pets.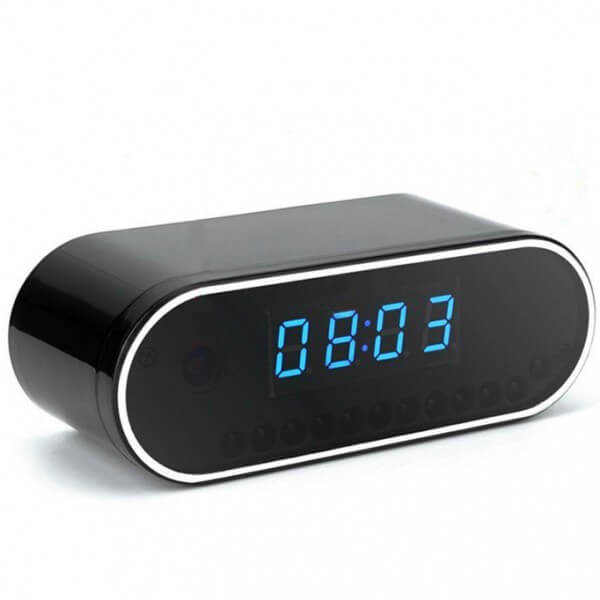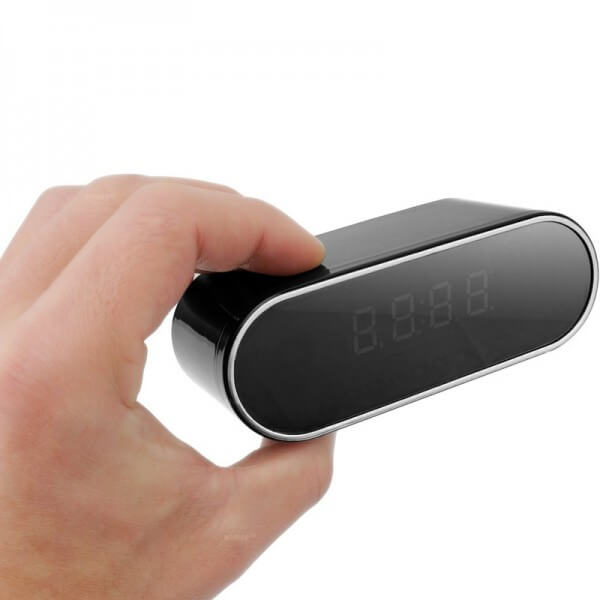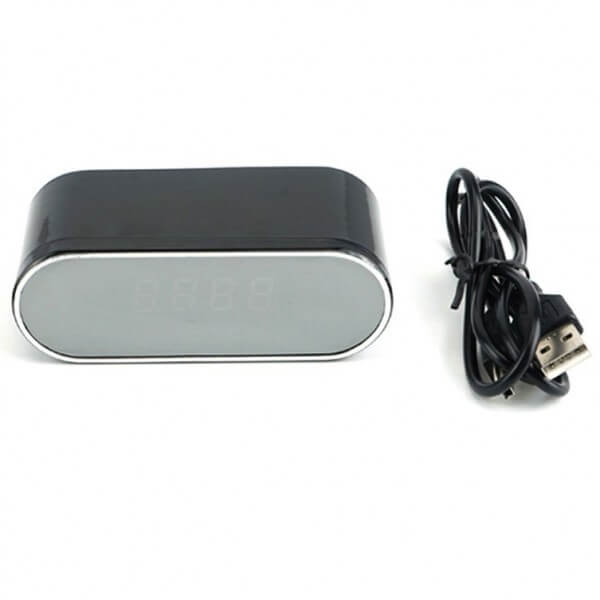 Data sheet
Weight

280 grams

Dimensions

102x43x37mm

Memory

Supports up to 64Gb cards

Resolution

1920x1080

Frame per second

30

Video format

Avi

Software

All media players

Pixels

12 million

Motion detection

yes

Image format

Jpeg

Photo resolution

4032x3024

Battery capacity

3000 mAh

Compression format

H. 264

WiFi

yes

Compatible Smartphone

IOS/Android

Infrared vision

yes

Live view

yes

Sensing distance

12 meters