Trap photographic infrared Full HD 12 million pixels
Animal Full HD camera with image sensor 12 million pixels, view angle 120 degree, second time to quick release 0.8, infrared vision, detection of movement up to 15 meters, battery life 12 months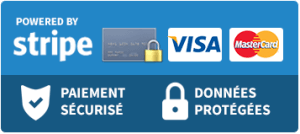 Average votes for this product
Based on
13
customers advices.
« Previous
Hunting with thermal sensor camera
€129.90
Next »
Infrared hunting HD 12MP camera
€119.00
Description
Among the models of infrared hunting camera the latest on the market, you will find this model. The latter has great features like a wide angle PIR up to 100 degrees and one 120 ° wide lens. With a vision so broad, sure you to capture the entire scene. In the same vein, to allow you to never miss any interesting situation, the device fires in just 0.8 seconds as soon as there is a movement or a change in temperature in the monitored area. For what is the resolution photos taken, the unit offers you images up to high definition 12 million pixels. In terms of video, is the resolution of 1920x1080P and the goal records 25 frames per second. At each outbreak, if you opt for a fashion photo + video, this photographic trap takes 3 pictures and realize a video of 10 sec.
As surveillance camera hunting, She is particularly discreet. To do this, it is proposed with a lattice pattern that allows him to have an optimal camouflage. In the same vein, its small size (135 mm long, 90 mm wide and 55 mm high) and weight light (160 g) make this model can be installed everywhere. Besides, know that its distance to outbreak goes 10 to 15 m. the most benefit of this device is its very long battery life which can go up to 12 months in standby mode. Indeed, the camera is equipped with 2 batteries 18650. You can increase the autonomy of this camera in him adding a solar charger.
Seen that in General, the surveillance camera hunting is above all dedicated to a shooting outside, the device is designed to be robust and waterproof. As it blows rain or shine, you have nothing to fear. Similarly for corrosion, dust or insects, the device will be perfectly protected. You can hang it on what is branch of a tree in nature or post in a framework more civilized.
Not being dedicated only to hunters as game camera, it can also serve as security camera in the gardens, car parks or even in offices. With all its features and the supplied image quality, you can use it as a source of evidence in cases of crime or offence. In order to store all this data, be aware that this trap photo memory microSD up to 32 GB cards. In all situations, this feature will be very useful.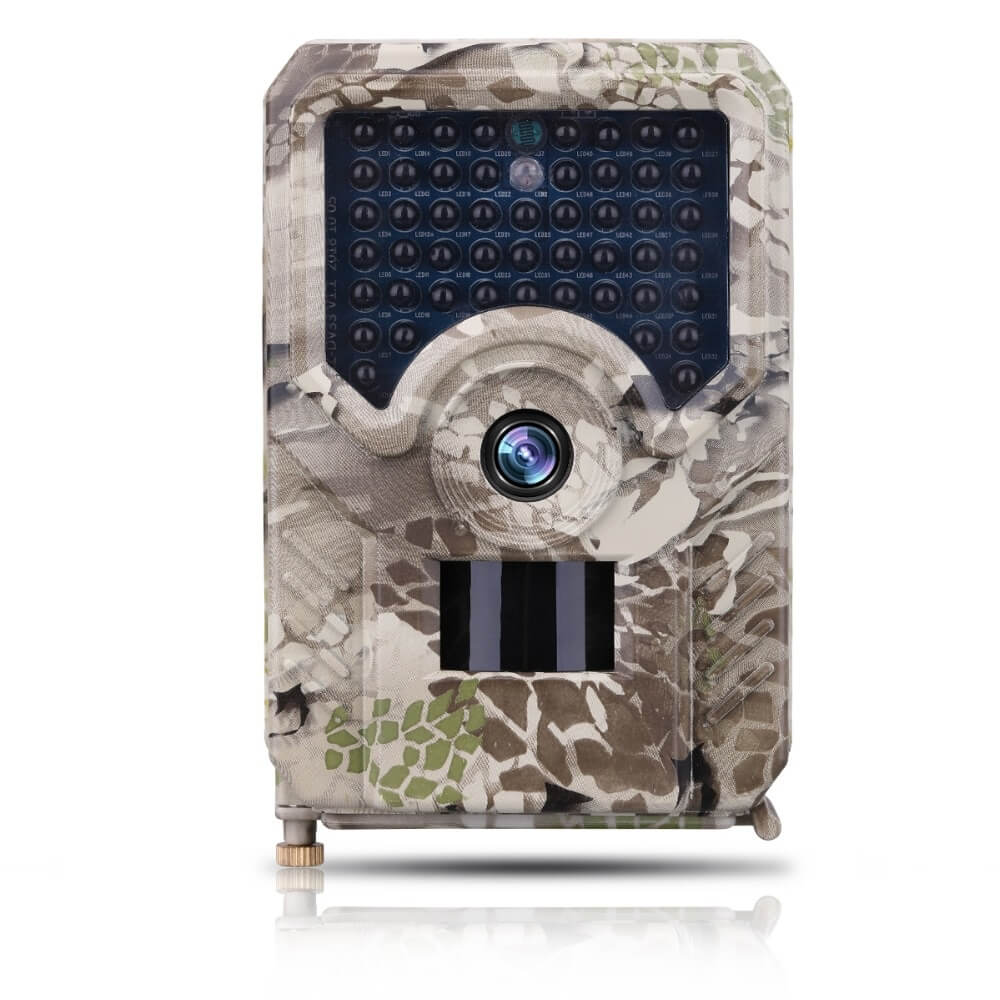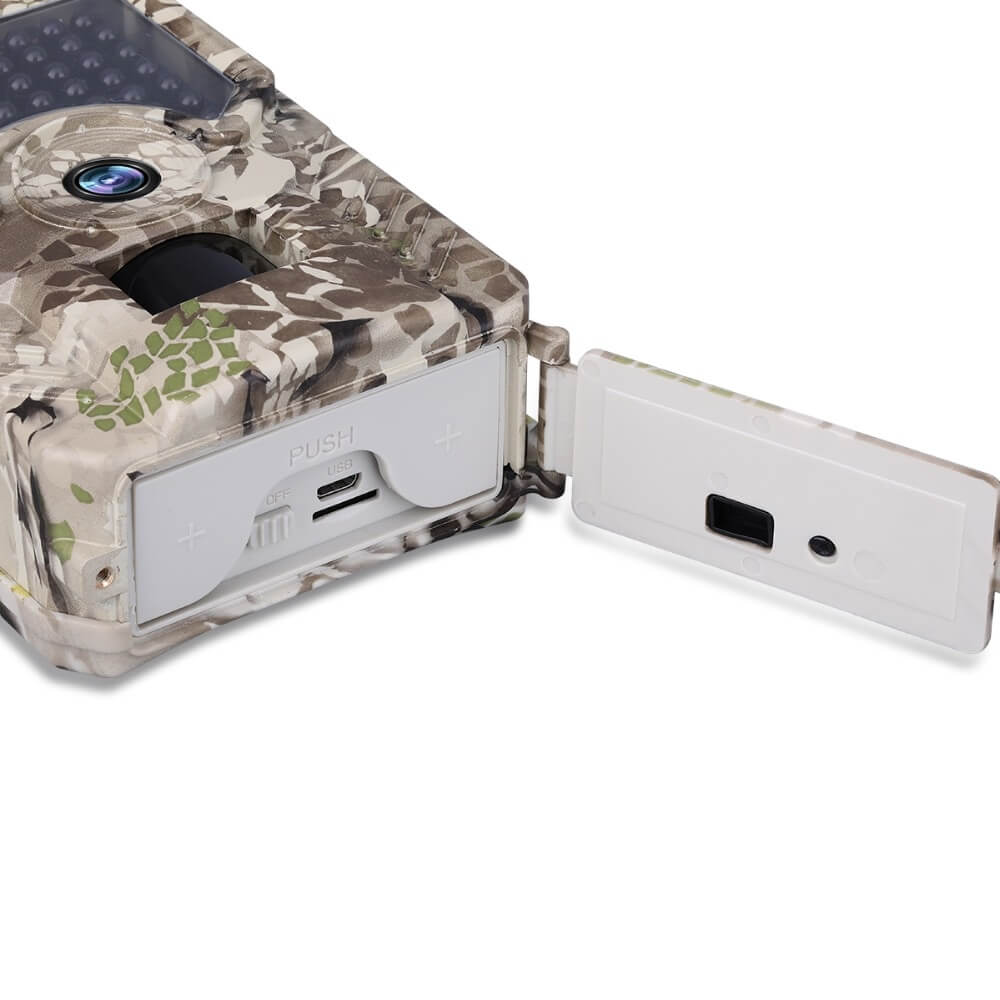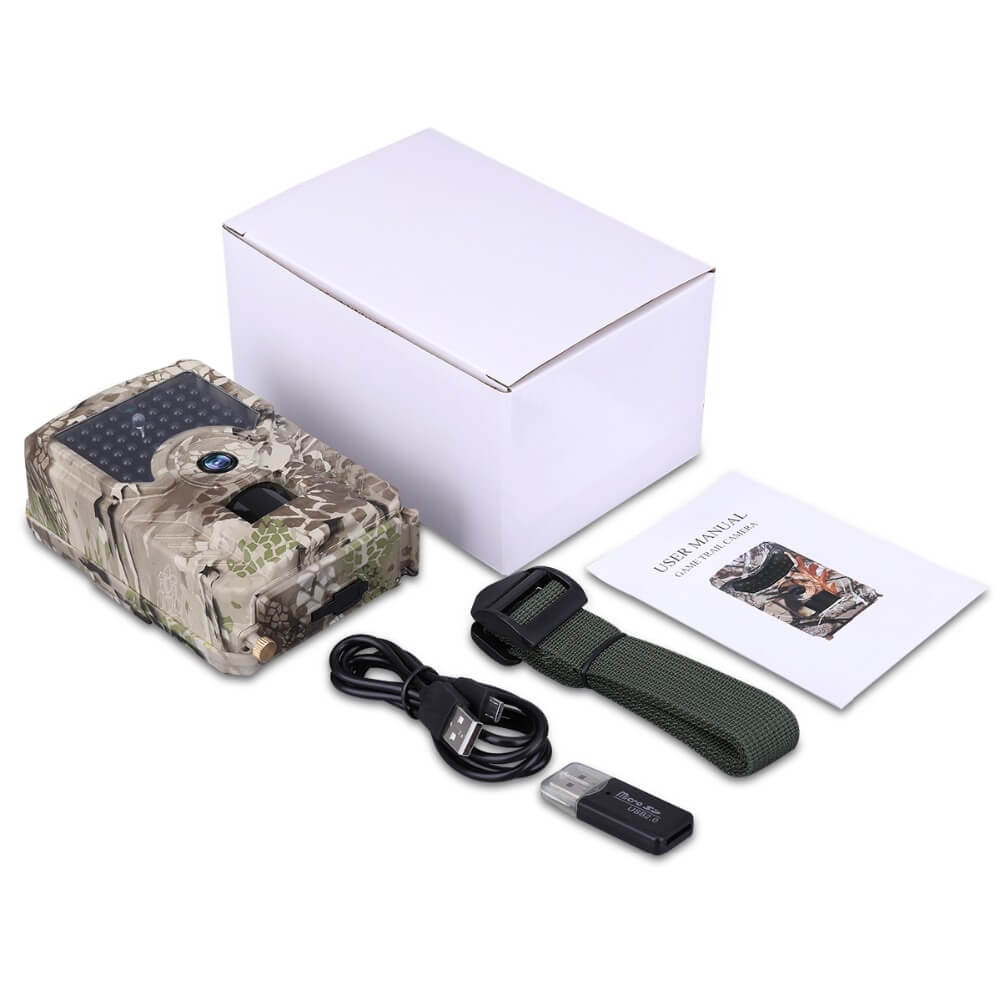 Data sheet
Standby time

12 months

Memory

Supports up to 32 GB microSD cards

Resolution

1920 * 1080 P

Frame per second

30 images

Video format

AVI

Operating system

Windows-IOS

Pixels

12 million

Angle of view

120 degrees

Motion detection

Yes up to 15 meters

Waterproof

IP56

Image format

JPEG

Type of interface

Mini usb 2.0

Possible operating temperature

-10 to + 70℃

Photo resolution

4032 * 3024

Compression format

H.264

Power

4 AA batteries

Led

26 - black 940nm

Trigger time

0.8 second