Professional digital voice recorder
This professional digital voice recorder has a capacity of 8 and 16 GB for a record time of 48 hours and more. It captures the sounds within a radius of 80 meters and features DSP technology for the treatment of noises. It includes 18 languages.


Average votes for this product
Based on
6
customers advices.

« Previous
Recorder voice digital 8 GB
$49.90
Next »
Audio recorder features and shapes especially modern
$86.90
Description
Are you looking for one Digital Dictaphone professional quality? This product is made for you. You have the choice, with a capacity of 8 GB and 16 GB model according to your needs. The device is made of an alloy of zinc, which gives excellent resistance to shocks. Tempered glass screen offers a good display and is also very resistant. The device measures 105 x 21 x 90 mm. It is available in only one color, the money. You have with this unit in a record time of 48 hours continuously. While in standby mode, it can hold up to 68 hours. That can remotely record, this device allows you to tap a conversation within a radius of 80 meters. The quality of the sound comes from a microphone to the large diameter, as well as a registration at 1536 kbps and a sampling frequency of 20 Hz-20 kHz. Files are saved in WAV format.
The device takes several interesting technology with him. First, power off and automatic backup of records. This can be useful when the battery goes down. Recording files are automatically saved. The device can be connected to your mobile phone to record your telephone conversations with one adapt OTG. The DSP technology contributes to the quality of the recorded sound. This technology's role to reduce the noise around the source.
Easy to use, simply you click to activate recording. For the handling of this voice recorder either easy, it features 18 different languages. As with all devices of this type, the Dictaphone Digital professional can also serve as a music player. It has a 3.5 mm headphone output. It can read all audio formats. For the transfer of data, the device is equipped with a USB 2.0 with a speed of transfer. You can plug it into a Windows PC under any version. It is provided with an eco-friendly lithium battery. The charging cable to plug it into any USB charging stand. At the time of delivery, the package contains a voice recorderheadphones, a charging cable and a manual.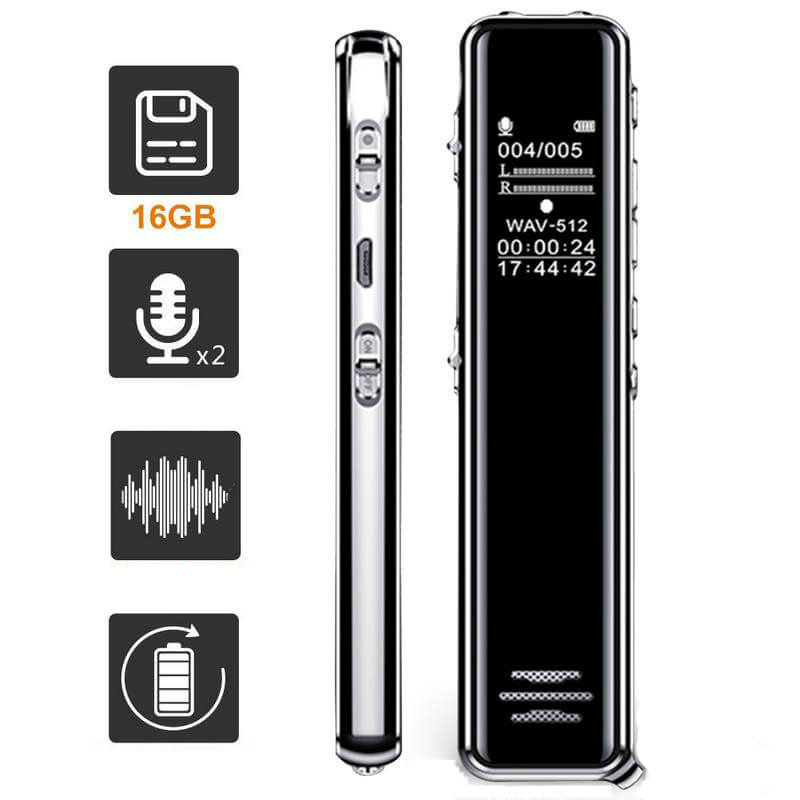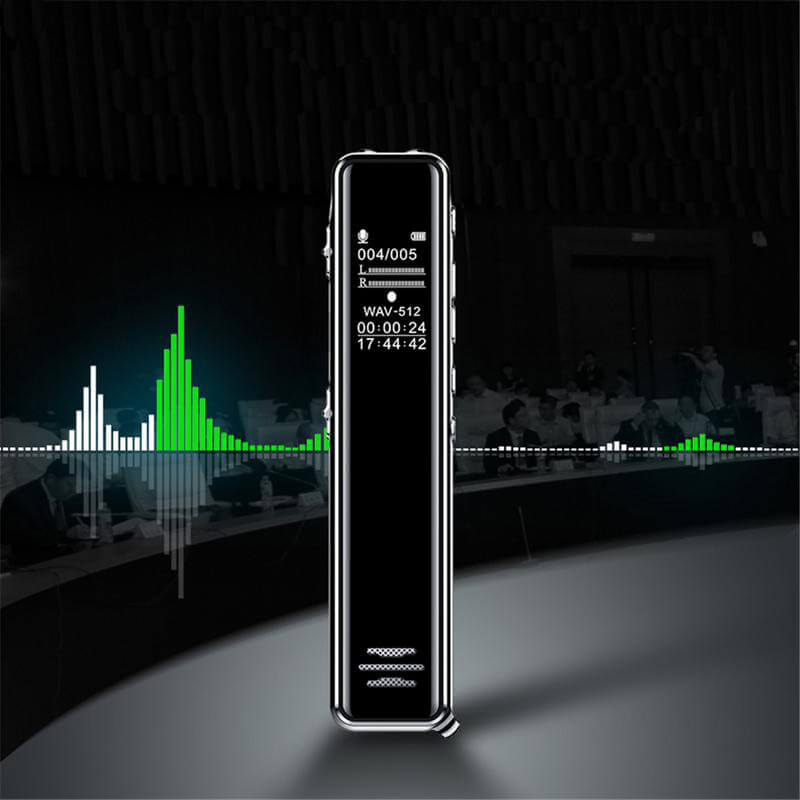 Data sheet
Standby time

68 hours

Dimensions

10.5x2.1x9 cm

Continuous recording time

48 hours

Battery

Lithium polymer

Type of interface

Mini usb 2.0

Internal memory

8 - 16 GB of your choice

Audio format

WAV