Small animal camera HD 14 million pixels
Trap photo classic and compact, 14 million pixels sensor high definition, 1.44 LCD screen inches, waterproof, quick release 0.7 second, infrared vision to 15 meters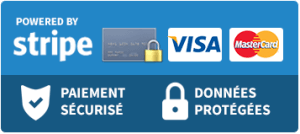 Average votes for this product
Based on
14
customers advices.
« Previous
Infrared hunting HD camera
€109.90
Next »
Hunting with thermal sensor camera
€129.90
Description
This hunting camera enjoys one of the most interesting reports quality-price of the market. Even if it is initially a device intended for observations of wild animals, it also suitable for other uses, including for domestic surveillance. It can also be a great help during your travels. The photo trap device has a infrared motion detector instantly triggers the image sensor. It can detect any movement, be it human or animal. Remote sensing can go up to 25 meters. The camera captures high quality images for the photos or videos. It offers a images of 14 MP resolution as well as 720 p videos. It has a LCD screen and regarding the storage capacity, it can support a 4 SD memory card to 32 GB.
That can operate day and night, the camera has a infrared function allowing it to capture images in the dark. As a normal lighting might frighten animals and scare them away, the device instead uses infrared which provides an invisible flash. In order to obtain sharp images in motion during the capture of night, the device has a light infrared 40 LED(froides-noires). So, it can take pictures without disturbing the animals. With a fast release time, the camera captures images 0.7 seconds.
The camera has been a strict water test before its commercialization. This type of surveillance of hunting camera indeed must be perfectly sealed to withstand weather that might occur outside. There is therefore no risk that he could be damaged by rain or dust since it has an IP65 waterproof level.
The device has a considerable advantage on the quality of the photo captures. This is equal to the resolution it offers as well as the brightness of the pictures taken. The image sensor offers pictures with excellent fidelity of color and saturation level. With a very sharp image, details of each object you will be all revealed.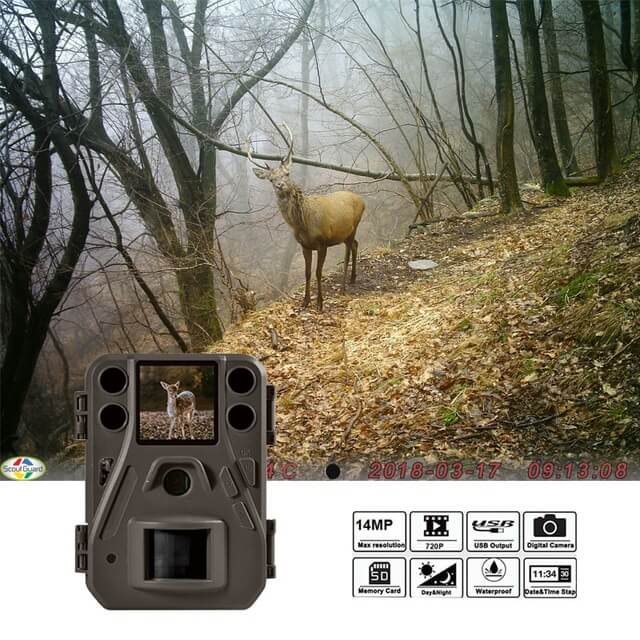 Data sheet
Dimensions

107x76x40mm

Memory

Support maximum 32 GB microSD cards

Resolution

1280x720P

Video format

AVI

Operating system

Windows-IOS

Software

Media Player Classic

Pixels

14 million

Image format

JPEG

Possible operating temperature

-30 ° C to + 70 ° C

Compression format

H.264

Infrared vision

Yes

Power

4 AA batteries

Trigger time

0.7s

Screen size

1.44 inches