GPS Tracker car 3G connectivity
This 3 G GPS tracker is a device designed for all kind of vehicles. Its 700 mAh battery offers good battery life. Possibility of unlimited autonomy with its 12 - 24V connection. Its motion detection function allows it to be on the lookout for events taking place around the vehicle.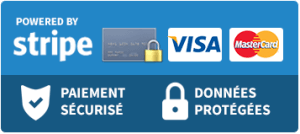 Average votes for this product
Based on
8
customers advices.

« Previous
GPS Tracker car 3G with magnet
€174.90

Next »
Plotter GPS car loving WIFI 3G
€269.90
Description
Here is one GPS Tracker car which, because of its small size is also suitable for vehicles with two wheels. Indeed, it is a dimension of 80 x 47 x 21 mm for a weight of 78 grams. As a result, he can slip anywhere on your vehicle without being bulky. The GPS features GPS and GSM module. The first to give its location, while the second sends messages and calls to alert in case of need. For this, it works with a standard SIM card. It works on the 3G network and allows it to function in the world. It can support an external memory card type micro SD in order to save all the data recorded by the device. With this card, you can then collect all the data on your computer. The device is powered by a a power of 700 mAh rechargeable battery and can be connected to an outlet of 12 to 14 V.
The Tracker GPS for car has a motion detector that will be of great help when your vehicle is no longer in scope of view. Indeed, once it detects a movement in the direction of the vehicle, the device will send an alert by SMS or a call to warn you. You also have the option to make the geolocation of the device through the GPS tracking and positioning LBS that offers a accuracy of 5 meters. This will be visible via a free tracking software including a web platform, an application Android and iOS. So you can know the whereabouts of your vehicle only by throwing a quick glance to your smartphone.
Solid and waterproof, this Spy gps Tracker can withstand anything, be it dust or the projection of water. It is provided with a level of airtightness IPX7. Also, even if the appliance is immersed in water for 30 minutes, there is no risk that it is damaged. There is also an impressive battery life up to 60 days on battery if you turn on the power saving mode. Easy to install, you need then not to call in a professional. You just follow the instructions in the operating manual.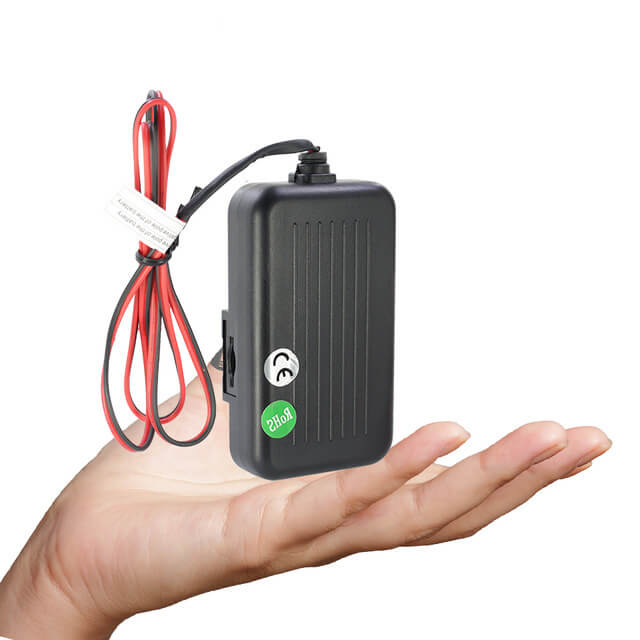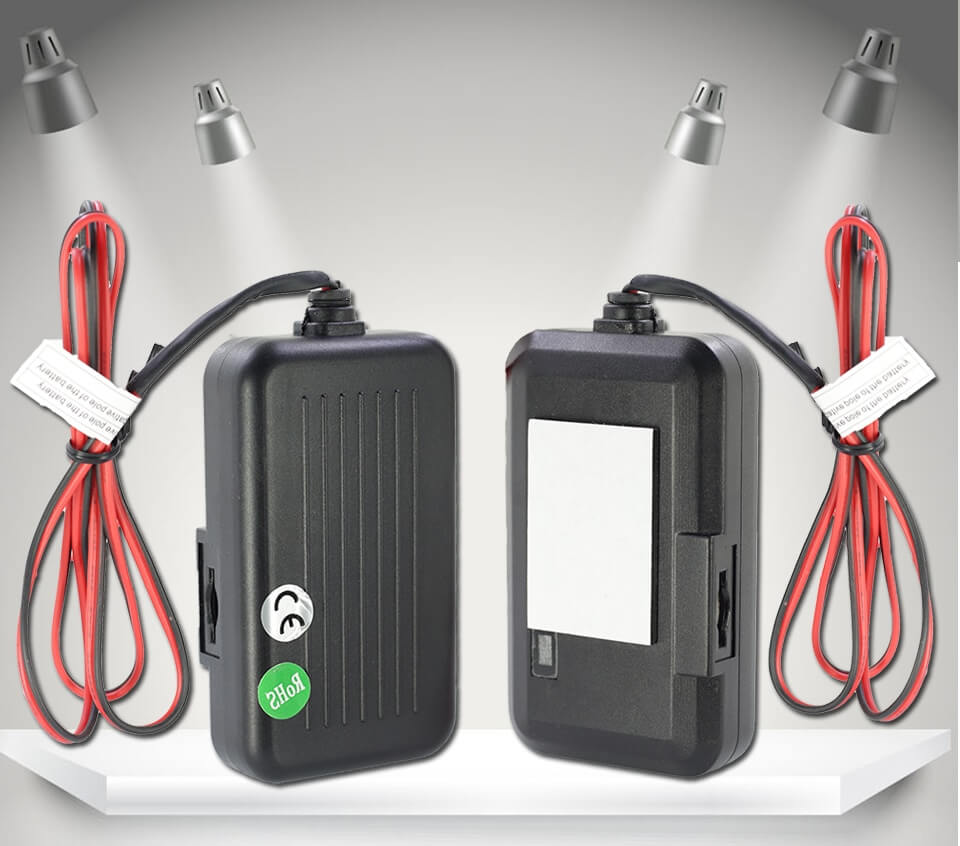 Data sheet
Weight

78 grams

Dimensions

80 x 47 x 21 mm

Battery

Lithium polymer

Waterproof

Yes - IPX7

Battery capacity

700 mAh

Compatible Smartphone

IPhone and Android

GSM frequency

3G

Internal antenna

Yes

Mobile application

Yes

Operating voltage

12 24V
Questions(FAQs)
GPS plotters are monitoring and effective geolocation feature. To ensure the proper functioning of the device, it is essential to have a SIM card. A chip to connect the GPS with a mobile phone. In case of problems during a trip, the user immediately receives a SMS alert. It should be noted that the configuration of a GPS Tracker doesn't happen automatically, it's the user himself must perform this task. Namely that most plotters models that are on the market can be configured in the same way. Configuration of a snitch does require the use of specific software. Before be inserted in the GPS plotter box, you must set up your SIM card so he can send you SMS alerts. To do this, you must registered in the phone a few codes encrypted (in manual use) in order to receive information and control the device remotely. Besides, compared to other types of spying apparatus, the main advantage of a GPS Tracker is that it can send directly to the owners of the SMS alert.  

---

The geolocation of the vehicle is a good alternative to manage and control your company. Indeed, this device meets the requirements of companies looking for an effective and professional solution for the safety of its vehicles on the road but also to control the quality of service of its employees. But this does not mean in any way that individuals can benefit from. The GPS Tracker is also the best friend of individuals to secure its property. As a reminder, tracer also called Tracker or GPS Tracker GPS sends its positions and SMS alerts. Because of this, to be able to use the tag correctly and efficiently, you must choose a mobile operator that suits you. However, the question arises: which carrier is compatible with your GPS beacon. Besides, these existing operators offer users of the wide choice of offers. Everyone is free to choose for mobile operators. But we must focus on mobile operators with SIM cards and offers best prices knowing that the GPS sends notifications by sms or via cellular connection for applications. Choose an unlimited plan with sms and a minimum of cellular data. Feel free to go around the market for comparison. 

---

A GPS Tracker is a small device of spying with a GPS receiver and a GSM transmitter. This monitoring equipment is very effective, as it allows to locate a vehicle on-demand satellite. Through the GSM/GPRS network, you can receive all the information from the vehicle on the road, including its geographical position (latitude and longitude). This feature is especially used in businesses to monitor vehicles on a mission. In real-time, the Manager will have all necessary information. In case of trouble, the company may intervene. It's also a great way to control the quality of services of employees: downtime, the total duration of the trip... With this device, all trips out of planned area is not allowed. For individuals, having a GPS Tracker allows to secure your belongings and your vehicles. In an emergency, you will be alerted in real time by SMS. Having such a device will bring you a happier life. 

---

With GPS plotters, insurance premiums may decrease if the user has opted for a type of coverage for this situation: professional car insurance. It is in fact of insurance that adapts to the routes the driver to browse each year. By reducing the number of kilometres you make every year, using a GPS Tracker can allow you to saving money. Apart from these cases, the installation of a geolocation system does not reduce insurance premiums. There are still insurance at kilometer is dedicated to individuals who drive little: around 8,000 kilometres per year. The use of a GPS plotter with a professional auto insurance is a good alternative to reduce insurance premiums. Check with your insurance to get more details.

---

If the device works well, then choose the SIM card fits your GPS Tracker. The market, chips are available in several formats and sizes.  Starting with the nano SIM, the SIM in a standard format as well as the larger models. For the GPS plotter, it is preferable to opt for the SIM in a standard format that fit easily into your device. At the time of the configuration, you must remove the PIN code of the card. Besides, a bug has no keyboard, so it is not possible to dial a PIN code. Unless you have made your purchase in a specialized shop: at this time, you will have a code of 0000 or 1234. Therefore, delete this PIN code so that the device can turn on. You may have noticed that the modern SIM card come in 3 different formats: 3 formats on the same support. In this case, for the choice of the size of your chip, you don't have to cut the chip into 3 to choose the format that suits you. 

---

A GPS Tracker is a device security and key control as well for professional businesses. It allows to control all the movements of a vehicle, the point of departure at the point of arrival. Thanks to its features, it is quite possible to get the necessary information from a vehicle on a mission: he is able to find the exact location of the vehicle, the number of trips flown daily (in km), the duration and the number of stops, the history full of travel, etc. But that's not all, to maximally satisfy the need users looking for one performance monitoring system, other functions can be improved the efficiency and practicality of the GPS tags. With a GPS Tracker, you can get a complete daily balance for each vehicle: departure times arrival, break time, total duration of each trip, average speed... In the personal and private life, the GPS Tracker is used to secure your most expensive material goods. Whether it is for professional use or personal GPS Tracker stands as a surveillance aircraft that accompanies us every day: our security, ensure the quality and productivity of employees, the safety of objects of value... With this technology, the method of monitoring and observation becomes more efficient and professional. According to the law, the management of a company must inform its employees of the presence of device in the vehicle. This is to respect the privacy of employees.  

---

Versatile and multi use, the plotter must receive and send data to set the GPS position via a local cellular network or a GSM mobile network. Each Tracker has a regular like a mobile phone SIM card. Choose a solution with or without subscription dependent on certain criteria: the use of the device, the number of fleet to monitor, the scope of the project... When you opt for a GPS plotter without subscription: the device can receive SMS commands, GPS positions as well as different options for alerts (movement, out of box, battery), all to ra sent by SMS. If you need to manage several fleets, it is best to subscribe to an internet subscription to facilitate tasks. Here, you understand, the GPS plotters use SMS to send and receive information and need an internet subscription for the geo location of your vehicles. In regards to SMS, you can get information in normal times. According to your needs and use, to the maximum, you will need a dozens of SMS per month. As for internet subscription, approximately, you need 2megaOctes/month. 

---

Install a GPS Tracker is an operation that requires a lot of attention and a certain know-how. A GPS tag allows to control in real time with precise geographic position of a company on a mission vehicle. It is installed in the vehicle to monitor and remains connected to the GPS satellite network signal. In the case of the bug, we can find a signal receiver and a GSM transmitter. Satellite data is sent and stored in the receiver of the signal while the GSM Transmitter sends them to the GPS Tracker. Here is a small example to give you an idea of the mode of operation of a GPS Tracker: the GPS starts running when starting the vehicle or at regular intervals of 2 minutes,...  Know that it is the variation in the voltage at the start or the stop of the vehicle causing the system. To summarize, the GPS Tracker is a monitoring device not like others, it allows to control the behavior of employees, their displacement, protect your assets and your vehicles, you inform and alert you in case of emergency... 

---

GPS plotters are spy and surveillance equipment enabling secure and effectively control a vehicle, a motorcycle or a property. The GPS has a compact and robust case in which one can find the essential components that ensure the smooth operation of the device. Among these components, can be found on some models of rat loving support. It is considered as a fastening system that allows to facilitate the installation of the GPS Tracker on a metal surface. It is also used as a support for the protection of the device in case of accident or shaking. Due to the presence of this component, we can easily hide the GPS Tracker. For an optimal security level, most of the manufacturers of the spy systems introduce very powerful loving media in case of a GPS Tracker. All components of the bug are specially designed to meet the needs of users regardless of the circumstance. 

---

GPS plotters is a very professional and effective geolocation solution. For businesses, this device became essential to secure and control its workspaces.  For individuals, this unit is a real security support to protect your assets. Professional or individual, the geolocation solution is valuable aid in cautioned your surroundings. Regarding what the rental price of a geolocation solution, depends largely on several factors, namely: type of chosen device, its features, its use, the additional options... There are many people who think that the only companies can benefit from this service because of its price. In general, such a benefit rate oscillates between € 20 and € 100 or more per month per vehicle in function to integrate features. According to providers, rental housing, the subscription rate so that maintenance are already included in these rates.

It's just a price range, but to get an idea of price more clear, it is best to request a quote from the geolocation for vehicle providers. Depending on your needs, your budget, and the size of your project, they will set a custom quote that fits your application. In fact, the request for quote for this kind of performance won't take you much time. You have to fill out the quote request form or contact customer services. By request a quote in advance for your project of vehicle tracking, you can well manage your budget. 

---

Le traceur "allume cigare" se charge-t-il tout seul lorsque le véhicule roule et qu'il est branché sur l'allume cigare?

Oui le traceur gps allume cigare se recharge automatiquement lorsque le véhicule est allumé et qu'il est branché sur l'allume cigare. Il bénéficie d'une batterie interne qui assurera son fonctionnement lorsqu'il n'est pas sous tension (véhicule n'étant pas allumé).

Cordialement

---

SANS ABONNEMENT, est-il possible de localiser le véhicule sur une carte (MAPS) ? Ou reçoit-on uniquement les coordonnées par SMS ? Et faut-il télécharger une application sur son téléphone?

Oui la localisation du gps se visualise sur une carte. Sur ce modèle de traceur gps il n'y a pas d'application, vous recevez directement par sms un lien vers google map avec la position du traceur gps.

Cordialement

---

J'ai manqué de précision en posant la question précédente. Je cherche un traceur qui peut m'envoyer sa position (coordonnées par SMS). Est-ce possible SANS ABONNEMENT TELEPHONIQUE pour le traceur? La question est posée plus haut, mais je n'ai ...

Bonjour,

Oui le traceur GPS peut fonctionner sans abonnement téléphonique; il vous suffit de prendre une carte prépayée. Pour une utilisation intensive du traceur GPS, nous vous conseillons un petit forfait à 2 euros chez free.

Cordialement

---